Our First Cruise
In The Late 1980's
<<<LATER CRUISE &nbsp &nbsp MAIN PAGE>>>

Click on each photo below to view a larger image.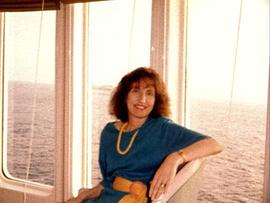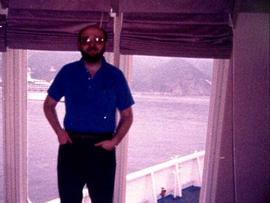 My wife and I (Barbara Cepinko and Stephen Grande), took our first cruise sometime in the late 1980's. It was a 3-day weekend cruise to Mexico stopping at Catalina Island, Tijuana, and I think Ensenada, Mexico. My understanding is that as of 2018, most cruise ships have not been stopping at any of these ports for a number of years. The reasons for not stopping at these Mexican ports is because of the high crime rates and the danger to tourists. Cruises still stop at ports in Mexico further south that have not been plagued as much by crime. I think the reason most cruise ships no longer stop in Catalina is because they can not open the casino when traveling from Los Angeles to Catalina. Since the ship does not go out into international water traveling between these two United States ports, it is not legal to open the casino. If a cruise ship departing Los Angeles heads straight for a port in Mexico, they can open up the casino as soon as they enter international water.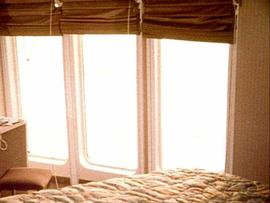 Thinking this might be a once in a lifetime experience, we splurged and booked the "Captain's Suite". We went on this trip with another couple that booked the "Owner's Suite". Both of these suites were at the front of the ship and had fantastic floor to ceiling windows facing both out the front and out the side of the ship. In addition to the bedroom, each of these suites had a totally separate living room. From the above photo and some of the photos below you can see the big windows in our room.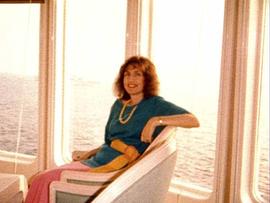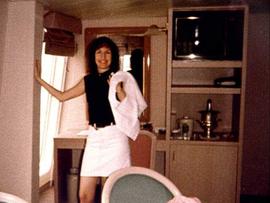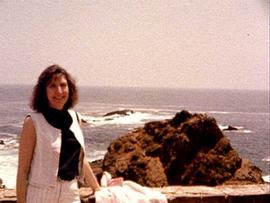 Above: More photos of my wife, Barbara Cepinko, in our stateroom on the ship.
The last photo of my wife is on land at one of our port stops.


Our Own Personal Cruise Ship!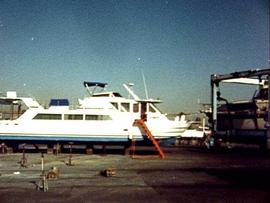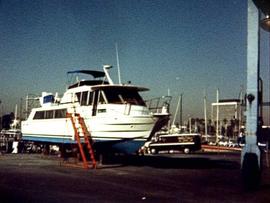 In the early 1990's we purchased a 50 foot motor yacht that we first kept in Huntington Habour and later at Newport Dunes in Newport Beach, California. We mostly just cruised near shore on weekends. During the decade that we owned it we only went to Catalina Island. It was pretty expensive to operate costing about $350 in fuel just to go round-trip to Catalina Island. We sold the yacht in 1997.

Steve Grande (me), Jodina Grande (my daughter) and Ray Burns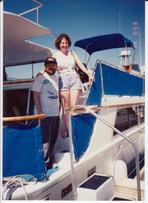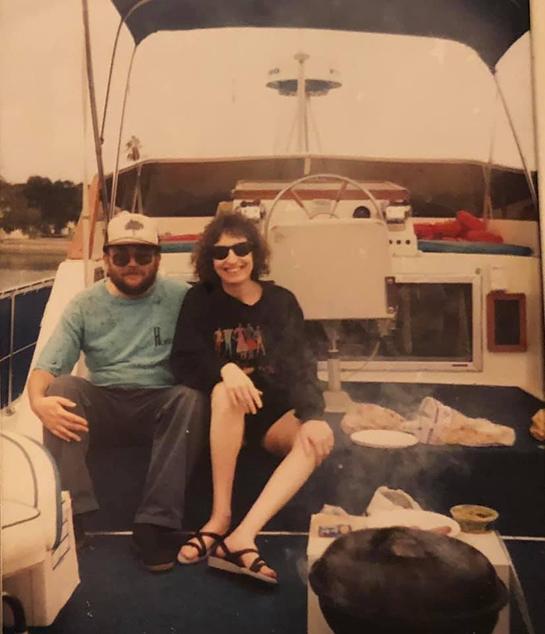 Steve Grande (me) and Barbara Cepinko (my wife).



The yacht had a capacity of more than 50 passengers. It had two bedrooms, an indoor bridge that could be converted to a bed for two, and a salon (living room) that could sleep two. It also had two full heads (bathrooms). Thus it could easily sleep 8 people. It had a full kitchen with a regular full size refrigerator / freezer combo, stove top, oven, microwave, trash compator, and more.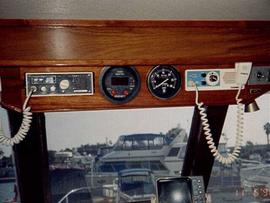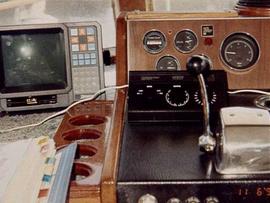 The Bridge Of Our Motor Yacht. We equiped it with all the latest electronics.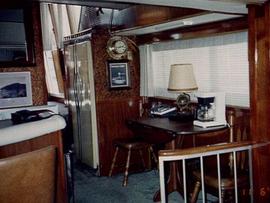 The Galley (Kitchen) Of Our Motor Yacht with every modern convenience.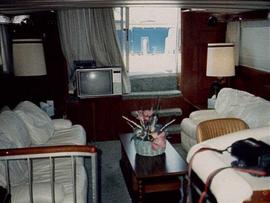 The Living Room with 2 sofas that could turn into beds.



We won 3rd place one year at the Huntington Harbour Christmas Boat Parade.
On one of our Christmas Harbor Cruies we had over 50 passengers on board
and we carried enough life jackets on board for everyone!

Click on each photo above to view a larger image.

<<<LATER CRUISE &nbsp &nbsp MAIN PAGE>>>