If in this report you see any typos, misspellings, factual errors or other types of errors, please let me know. Please include the web address (URL) of the report in which you found the error. Thank you! Send your email to:


Click on each photo below for a larger image.
Lazy Day At Sea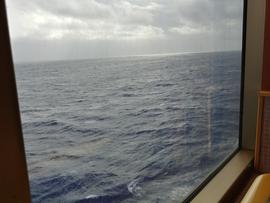 2:11 PM Pacific Ocean viewed from the Lido Restaurant
So far this has been a lazy day at sea. We got up late and then I spent much of the morning and afternoon catching up on this trip report. The internet has been very slow and unreliable ever since we left Long Beach, California. It does work, sort of, but not well and not fast. I've had excellent internet service and good speed on a number of cruises in the recent past including our Carnival Miracle Panama Canal cruise, our Carnival Horizon Transatlantic cruise, and our NCL cruise to Iceland. The internet speed on those cruises was not as fast as fiber or cable, but it was way better than dial-up. The speed was probably about that of DSL service for those of you that remember those days. But so far on this cruise, once we left Long Beach, the speed has been slower than dial-up and reliability has been way less than dial-up.
We have had somewhat rough seas with wind, rain, and overcast skies for most of the trip so far. My guess is that the ship's internet satellite dish probably has some difficulty constantly staying focused when the ship is rolling. My understanding is the satellite dishes automatically seek and lock onto the signal as the ship moves, but I can see how the rocking and rolling of the ship in somewhat rough seas could greatly reduce the reliability of staying focused. I'm sure the wind, rain and overcast skies don't help the satellite internet signal either. We'll just have to see if the internet speed and reliability improve when the weather improves and when we get to seas that are less rough. I hope so.
Update As Of January 24, 2019: The internet on this ship has been terrible for the entire trip even when the seas were very smooth and the skies were clear. The only time the ship provided acceptable internet was when it was within a few miles of shore. The internet was acceptable for a while as we departed Long Beach, California, and while we were in each port in Hawaii. But even then, using the cellular data plan on my own cell phone was way faster than the internet on the ship. Internet during our Sea Days to and from Hawaii was extremely slow and often non-existent. Many passengers were complaining about the internet and comedians on the ship were even making jokes about it.
The Carnival Hub App works perfectly throughout the ship. Access from my phone to the Carnival Hub App has worked from everywhere, but access to the web outside of the ship is very spotty at best. Using a WiFi Tool App on my cell phone I can see that there are dozens of WiFi hotspots throughout the ship that work fine. It appears that it is the satellite link, both for the internet and for TV, that needs to be updated. The internet on this ship is probably fine for the Mexican Riviera and Caribbean cruises which this ship is mostly used for. Those cruises are usually fairly close to shore most days and the ship makes port stops almost every day. The ship probably connects to land feeds to provide a good supplement to its satellite internet feed. But when the ship has to totally depend on its satellite feed for internet or TV when it is out in the middle of the ocean, its equipment is not up to the task.
The Carnival staff on this ship is well aware of the internet problem. When we asked about it, they just mentioned it is going in for a complete overhall in October and the problem will probably be fixed at that time. We really hope they can fix the problem before then as my wife and I will be on the 24 day Transpacific Cruise to bring this ship from Long Beach, California, to Singapore for that dry dock overhaul. We are not looking forward to 24 days with hardly any internet access.
In the meantime, the photos from this cruise have been uploading extremely slowly, and sometimes not at all for hours. So, I've taken to writing all the text for the reports from the last couple of days without photos, just putting place holders into my report for where the photos are to be inserted. When the internet gets better and the photos all get uploaded, I'll insert each photo into the reports where they belong. In worst case we should have excellent internet during the 4 days that we are at various ports in Hawaii.
Update as of January 24, 2019: The internet has been so bad that I just completely gave up on depending on my photos to upload to place them into these trip reports. Instead I started using a hardwire USB connection and just copied the photos from my cell phone to my computer. The file naming convention for direct copy of photos is different than what Dropbox uses but I'm able to insert the photos into my reports using either file naming conventions.
Being just past the end of the year I also have a lot of 2018 business and personal tax preparation that needs to be worked on. Forunately I can work on much of that using the offline features of Google Drive. I know a cruise is supposed to be a vacation, but rarely do I ever take entire days off from work. As I've mentioned before, my wife and I like the night life on the ship. So I mostly take care of business during the day and then relax at our favorite music venues in the evening. In the meantime, I have a wonderful ocean view while I do my work! On nice days, I'll open the balcony door to hear the sounds of the ocean and breath the fresh ocean air.
Update as of January 24, 2019: I learned that I need to disconnect my computer from all WiFi access while using Google Drive in offline mode. When my computer is connected over a very unreliable intermittent internet connection, Google Drive gets very confused. Google Drive keeps trying to connect to the online version of my files. As access goes in and out, it gets confused about whether it should keep trying to load the online version or switch to the offline version of the files. As a result, it doesn't use either and everything just gets hung. But I've learned that if I completely disconnect from the internet, Google Drive immediately realizes it has to use the offline version of the files and then works just fine. Whenever I reconnect to the internet and have good access, Google Drive automatically updates the online copies of the files.
I did find there are a number of important features not available when working with Google Drive in offline mode. One important feature that seems to be missing in offline mode is that I can not create new Google Drive files and can not properly create copies of existing files. I did once try to make a copy of an existing file while in offline mode, but instead of creating a new file, Google Drive created a new sheet inside of the old file. This baffled me a bit but I was able to manually separate it out into a new file once I got back online.
We received the above notice on our cabin door last night. I guess we'll be skipping the "Place of Refuge" due to the federal government shut down. I'm not sure why they couldn't just substitute some other place to stop at on the tour instead of making the tour one hour shorter. I wonder if they will be giving us a partial refund? It was only going to be a short 3.5 hour tour. Now it will only be a 2.5 hour tour. That is about 1/3 shorter than what we paid for.
Punchliner Comedy Club
Tonight we went to the earlier "PG" rated performance titled "Family Matters" by comedian Steve Burr in the "El Morocco" room on 5 Aft. This one was a bit more entertaining than the "R" rated performance yesterday. Sometimes I think in the "R" rated shows the comedian will just go for the low hanging fruit of sex, dirty words, or making fun of audience members. It seems to me it is easier to evoke laughs from the audience by hitting on risque topics or using shocking language on stage. Neither my wife or I are easily offended, but the comedy just seems better when the comedian has to work at coming up with good funny material than falling back on just trying to shock the audience. It seems there might be as many as dozen comedians on board. They seem to have each do from 2 to 4 shows and then rotate to the next set of comedians. Once we got to Hawaii it appears they rotated the entire set of comedians for a new set. Some of the comedians were very funny while others I found to be quite dull. But don't go by my tastes. In most, the audiences were laughing their heads off while I found the material to be boring.
Dinner at the Gold Pearl Restaurant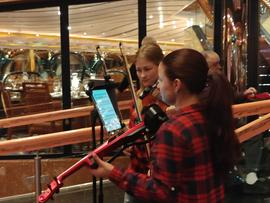 The
Catts Duo
greated us with a variety of violin music as we entered the restaurant.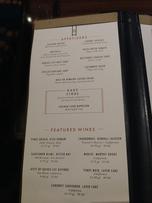 Appetizers and Featured Wine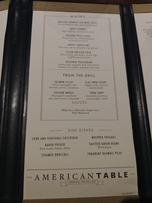 Menu Selections
Featured Wine Close-Up
Below are my ratings of the red wines offered with dinner. We don't often drink white wines so I'm not able to provide our ratings of those nor of the Kathie Lee Gifford wine that I have no desire to try. The restaurant also has a much more extensive separate wine list that I haven't viewed on this cruise yet.
| Wine Type | Winery | Location | Glass | Bottle | Rating |
| --- | --- | --- | --- | --- | --- |
| Merlot | Murphy Goode | California | $ 9.75 | $35 | Good |
| Red Blend "GIFFT" | Kathie Lee Gifford | California | $ 9.00 | $32 | Untried |
| Pinot Noir | Layer Cake | California | $11.00 | $40 | Good |
Our assigned table number 306 is a table for 6 by the window. Yesterday being our first time having dinner at The Gold Pearl Restaurant we had to wait to be shown where our table was located. Today we were allowed to just go direct to our table unescorted since we now know where it is located. There was only one other couple assigned to our table for 6 people. We were not here for dinner on the first night and our table partners would not here for the second night. So this was the first time we were all here for dinner at the same time. They were a nice retired couple about our age and we had a nice conversation over dinner. We discovered that we were both on the same cruise on the Carnival Miracle through the Panama Canal a year ago in January 2018. It was Kathy's birthday so the serving staff brought over a small cake with a lit candle and we all sang Happy Birthday to her.
A Towel Bear?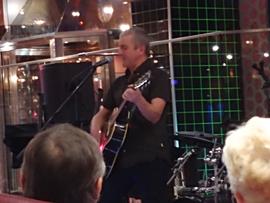 Solo Guitar Sounds with Darren Scott in the Splendor Lobby
Viva Varietyl: Christopher Alan Graves
Get ready for some awesome entertainment! Join your Cruise Director, Lee, for an amazing musical performance right on board your cruise with Christopher Alan Graves.
We went to the 10:15 PM performance and sat near the very back of the Spectacular Theater on level 5, the top level of the three level theater. I got excited that this might be a good performance as the screen said it was going to be singing along with a big band. I'm a fan of big bands. It seems pretty hard to find many big band performances any more. I guess the cost of trying to have so many musicians play together at a performance has just gotten too expensive.
Unfortunately that is not what this turned out to be. I think the "big band" music was just recorded as I didn't see any live musicians playing. Christopher Alan Graves came out and started with a Sammy Davis number which was to be followed by some Frank Sinatra songs. Frank Sinatra and Sammy Davis are OK, but not really my kind of jazz. I think I've heard enough of their singing for one lifetime as we used to always take both sets of our parents to Frank Sinatra tribute performances when our parents were still alive. I would have stayed through the performance if they actually also had a live big band on stage, but they didn't. So, I headed out ahead of my wife to get us seats at the Grand Piano Bar. She wanted to stay for a number or two before she headed over, but she isn't enthralled by Frank Sinatra or Sammy Davis either.
Grand Piano Bar
Eden Parker performs two sets each night in the piano bar, usually the first at 9 to 10:30 PM, and the second from 10:30 until "Late", usually until well after midnight. All ages are allowed to attend the first set and only adults 18 years old and up are allowed at the second set. The official name of the piano bar is the "Grand Piano Bar". Everything in the room is shaped like a Grand Piano, even all the windows, the drink tables, and the ceiling lights!
They use a very interest light technology on this ship, I think LED light, especially in the Grand Piano Bar. I think each light bulb can switch to any color. The lights in the Grand Piano Bar kepts switching from one pattern to another from time to time. Sometimes it would be an orange and yellow pattern. Other times it would be a blue and white pattern. At other times it may have been other patterns that I don't remember. There was also a control panel where the lights could be changed manually. Eden Parker would sometimes use the manual controls to turn out most of the lights to darken the room and turn what lights were left on to a dark blue color scheme.
I looked closely at some of the light bulbs and it seems that each tiny bulb could change to any color desired. Throughout the entire ship they used these same types of bulbs for signs above doors to identify each room. They also used them in hallways to provide directions on how to get to various rooms. Wherever you find these signs, the colors of the words are constantly changing. I found this both amazing and annoying at the same time. I think it made the signs more difficult to read. Sometimes you had to wait for the color to finish changing to be able to read a sign. This would sometimes slow down my progress of heading to a room as I had to wait to be able to read the sign before proceeding.
I don't thing these color changing light bulbs are anywhere near as advanced and flexible as more modern LCD signage and displays, but they may have been pretty innovated at the time this ship was designed. I wonder if they are one of the fetures they will be stripping out when this ship goes into dry dock in October 2019?
In the Grand Piano Bar I ordered a double Ardbeg Single Malt Islay Scotch Whiskies for my wife and myself. Our server, Jodi, already knew just what we wanted as she had gone out of her way to obtain a bottle of it from another bar and had been pouring it for us for the last couple of nights. Evidently the bottle she had obtained from another bar must not have been a full bottle as tonight she gave us the very last of the bottle and there were only 3 shots left. So, instead of giving us each a double, she was only able to give each of us 1.5 shots, but she didn't charge us for a double. She promised she'd have her supply replenished by the next day that we came into the Grand Piano Bar.
We stayed long enough that I wanted one more drink. I gave my wife what little was still left of my scotch, probably about a half shot, and signaled to Jodi to order another drink. I asked what brands of Bourbon she had. She was only sure of one that I had never heard of. But, when she brought my drink it was Buffalo Trace, a brand of bourbon that I really like.
Whenever someone gives Eden a tip along with a song request, he crinkles up the bill and tries to toss it into his tip jar which is a giant Martini Glass that is sitting at the far end of the big piano (a "Grand Piano"). When he manages to get it in everyone cheers. He misses most of the time and there are crunched up bills all over the top of the piano near the tip jar. People also buy drinks for Eden. Surprisingly he manages to drink every one of them! We could not understand how he could drink so many and remain sober enough to continue singing and playing the piano, and he did manage to do that with great talent right to the end. He had to have had at least 8 alcoholic drinks during his two sets today. We asked the waitress if she is just giving him Shirley Temples. She said no, they are real alcoholic drinks, but would she tell us the truth? We listened to Eden until he was finished for the night which was almost 1 AM.
Above is the type of signage used throughout the Promenade, Deck 5, to show the way to various lounges, bars and other rooms.
So, that was the end of another fun day at sea!
Click on each photo above for a larger image.
If in this report you see any typos, misspellings, factual errors or other types of errors, please let me know. Please include the web address (URL) of the report in which you found the error. Thank you! Send your email to: