14 Day Norway Cruise
From Southampton, England To
Norway, Iceland & Scotland
Norwegian Jade
Inverness (Invergordon), Scotland
Hunting For The Loch Ness Monster
Day 12 - Friday, September 14, 2018
<<<PREVIOUS PAGE &nbsp &nbsp NEXT PAGE>>>

Click on each photo below for a larger image.
Loch Less, Scotland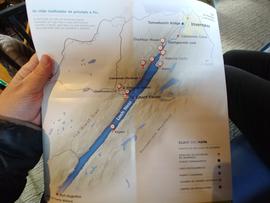 Getting There
We selected the 3 hour boat tour of loch ness by Jacobite. They call this thier Reflection tour which includes the canal and the loch. The cost for us was 40 GBP ($52.28 USD) for 2 Seniors and 23 GBP ($30.06 USD) for 1 Adult for a total of 63 GBP ($82.34 USD). Loch Ness by Jacobite does offer other shorter and longer tours, some which include other attractions along the loch. Check their website at www.jacobite.co.uk for those other options.
Deciding to book this on our own and not through the cruise ship offerings made this a real challenge. The only scheduled time for the tour that would work with the time that our ship would be in port was the 9:50 AM tour. We had to get from where our cruise ship arrived into Cromarty Firth Port in Invergordon to Jacobite Cruises at Tomnahurch Bridge on Glenurquhart Road in Inverness which is 25 miles. A taxi would have been about 50 GBP ($65.35 USD) so that was out of the question.
Stagecoach Bus 25X runs from Invergordon to Ineverness about every half hour with extra buses added when a cruise ship is in town. The cost is about 12 GPB ($15.68 USD) per person for an all day ticket, but better prices are available if traveling with children or 3 adults. We were 3 Adults so we were able to get an all day ticket for the 3 of us for just 24 GBP ($31.37 USD). It is a bit of a walk from the cruise ship so be sure to ask at an information booth how to get to the bus. Since disembarkation was at 8 AM, we had to quickly try to find and get on the earliest bus from Invergordon to Inverness.
The bus ride is about 30 minutes and should have gotten us into Inverness at around 9:00 AM. But the bus was running late and didn't get us into Inverness until around 9:15 AM. The bus route ends at the Bus Terminal in downtown Inverness. That is still about 2 miles from where we would board the tour boat. 35 minutes would not be enough time to guarantee we could walk there in time. Instead, we grabbed a local taxi from the taxi stand near the bus terminal and took that to the tour boat. That cost us about another 10 GBP ($13.07 USD). When we got to the canal, the lock was open and we had to wait for it to close to drive across to our tour boat. We thought we might miss the boat, but they waited for the lock to re-open to traffic as they knew others might be trapped on the wrong side of the canal.
After the tour we just reversed the method that we took to get to the tour. We took a taxi back to the bus terminal in downtown Inverness and then used our all day bus ticket to get us back to the cruise port in Invergordon. The total cost for the 3 of us was $139.85 USD including the 3 hour boat tour and the round-trip bus and taxi fares. The least cost shore excursion directly from Norwegian would have cost $105 per person. Their tour is called "Loch Ness, Urquhart Castle & Inverness Overview" but does not even include a cruise on the lake! I guess they just give you a chance to look at the lake. Their tour does add a visit to Urquhart Castle. We were much happier with our arrangements rather than the shore excursion from Norwegian, but it was a real hassle trying to get from the ship to the tour boat on time.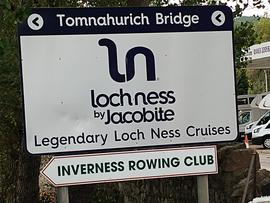 We had to wait for the above lock to open for vehicle traffic before we could get to the other side of the canal where our tour boat was waiting for us.
Boarding The Tour Boat

The tour boat that would take us out into Lock Ness to hunt for the monster.
Shelli Tucker (my sister) and Barbara Cepinko (my wife).
On The Lake, Loch Ness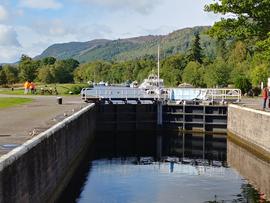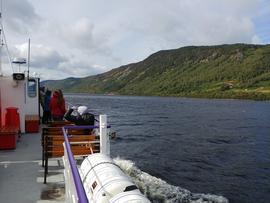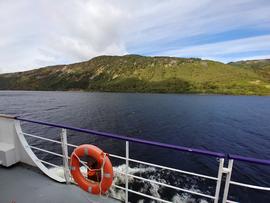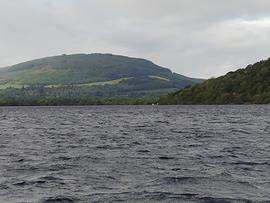 This Is Where The Tour Boat Turns Around To Go Back
Back At The Tour Boat Dock

Steve Grande (me) at the Tour Boat Dock.
Inverness Castle
Bus Ride From Inverness Back To Invergordon
Invergordon, Scotland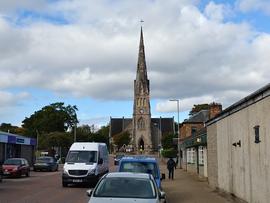 Certification That We Were North Of The Arctic Circle
Oil Drilling Platforms
Last Views Of Invergordon
Grand Pacific Dinner Menu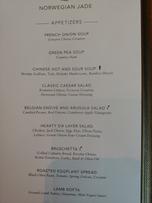 Views From Our Table In The Grand Pacific Dining Room.



The Menu Featured Red Wine We Had With Dinner.

<<<PREVIOUS PAGE &nbsp &nbsp NEXT PAGE>>>

Click on each photo above for a larger image.