14 Day Norway Cruise
From Southampton, England To
Norway, Iceland & Scotland
Norwegian Jade
Bergen, Norway
Day 3 - Wednesday, September 5, 2018
<<<PREVIOUS PAGE &nbsp &nbsp NEXT PAGE>>>

Click on each photo below for a larger image.
View Of The Port From Our Balcony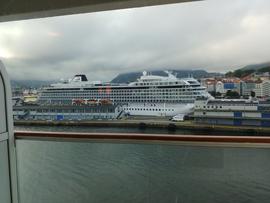 "Hop On Hop Off" type bus tours are offered in pretty much every major city in the world and even in many smaller cities. This is often a much less expensive way to take in just about all the sites of the cruise stop and give you a great narrated overview. It also allows you to get off at each site you find interesting and then hop back on the bus to continue exploring the rest of the city. We often take a complete round trip without getting off to get an overview of the entire city before deciding where to "hop off" to explore further.
There are a few major world-wide "Hop On Hop Off" providers such as Worldwide City Sightseeing, Gray Line, Big Bus Tours, plus many one city only providers. You can often buy these tours from your cruise line or Viator, but I would not recommend it. You are better off buying tickets when you get to your destination port. Cruise Lines will generally charge more than buying directly from the bus company. Viator will not only often charge more than the bus company, but will sometimes require you to go to a downtown location to exchange your voucher for a bus ticket. Meanwhile, those buying directly from the bus company can sometimes just "Hop On" the bus right at the cruise terminal! That has happened to us.
A Complete Round Trip Tour Of Bergen On The Hop On Hop Off Bus
Bergen Fish Market
We heard they had some of the freshest and most native seafood to Norway at the Bergen Fish Market so we stopped there to grab some lunch. Below you can see the menu of what they offer. Whatever you pick, they cook it fresh and bring it to your table.
Our combo "fish" meal included minke whale meat. I was a bit skeptical as I thought whale hunting had been banned internationally. Evidently this is a very complicated issue in Norway and Iceland. I rarely eat any red meat, and whale meat is a "red meat" since whales are mammals and not fish. Norway is very strict about the number of minke whales that are harvested each year in order to insure the population is not diminished. Most Norwegians will not eat whale meat but rather use it as pet food or as exports to Japan. And, obviously, as a novelty to be sold to tourists. Not generally being a fan of red meat I do have to say it was one of the best red meats I have ever tasted. But, having learned of the intelligence of these creatures, it almost seems like cannibalism to be eating their meat. I'm not going to be the judge here. It was probably a once in a lifetime experience for me. You can read more about this controversial whaling industry of Norway at Wikipedia at: https://en.wikipedia.org/wiki/Whaling_in_Norway. I'm also not a big fan of seafood in general other than salmon, tunafish and fried clams. I skipped eating most of this combo meal except for the whale and salmon which I thought was excellent.
Mostraumen Fjord Cruise
First learning experience of a "Cruise Rookie": Don't buy tours from Viator until trying to find the same tour from local vendors. Through Viator we paid $141.43 for this 3 hour tour. But if we had booked it directly through RODNE Fjord Cruise this identical cruise would only have cost 600 NOK or $71 USD per person! That is an obsurd markup by Viator. Viator does not always charge more than the local vendors, but I have as yet to see them charge less.
Both the cruise line itself and Viator usually charge more than local vendors that provide virtually the identical tour. The trick is trying to find a reliable local vendor that provides the same shore excursion. One good source to use is the reviews posted at TripAdvisor.com.
There are some advantages for paying more for the same shore excursion from the cruise line. First, they tend to be much better organized. Everyone going on a ship organized shore excursion will meet at a location on the ship and led by a ship crew member directly to the tour bus. When booking through Viatour or a local vendor, it can sometimes be a real challenge to figure out when and where you are to meet your tour bus. Plus, these other tour providers are not always able to pick you up right at the ship. Sometimes you have to find them either at the port exit or even in town far from the port.
Another very important advantage of booking through the cruise line is that you will not be left behind if your tour gets delayed somewhere. The ship will wait for your tour group to return to the ship. In extreme cases where the ship can not wait for your return, the cruise line will cover all expenses to get you to the next port to reboard the ship. If you go with another tour provider and they don't get you back to the ship on time, it will be up to you and at your own cost to travel to the next port to rejoin the ship if at all possible. Generally there is no problem getting back to the ship on time, but there is more of a guarantee when booking through the cruise line.
But in general, it is usually worth the inconvenience to book through a local independent tour company. Sometimes Viator offers tours that are not available through any local vendors as they are custom designed by Viator. In those cases it is often worth just booking through Viator as it is almost always less expensive than booking through the cruise line.
The boarding point of the cruise where we learned we could have taken this same cruise by buying direct for almost half the price.

Norwegian Jade As Seen From Our Cruise Up The Fjord.


At The Waterfall
Arriving at this waterfall appears to have been the ultimate purpose of this 3 hour round trip up the fjord by boat. This appears to be the origin of the water in the fjord. The fjord ends at this point. The scenery was impressive going up the fjord but probably more impressive in winter when everything is snow covered. I suspect that this waterfall is roaring with a huge amount of water during the glacial melt season. Today it was more than a trickle, but not terribly impressive. The captain slowly maneuvered the boat within inches of the waterfall, close enough to extend a bucket on a pole to gather some water in a bucket and let everyone on the boat taste the water from the waterfall. From here the boat turned around to start its 90 minute journey down the fjord and back to the port.

Odd wording for English readers, but in Norwegian means: "Slow Speed".


Just about every farm house has its own micro brewing but this is one of the more popular commercial beers Norway. The flavor was pretty good.

Barbara Cepinko (my wife) & Shelli Tucker (my sister).

Shelli Tucker (my sister).



Barbara Cepinko (my wife) & Steve Grande (me).


Back At The Norwegian Jade Cruise Ship

The Wine We Had That Evening.



The Towel Animal Of The Evening.

<<<PREVIOUS PAGE &nbsp &nbsp NEXT PAGE>>>

Click on each photo above for a larger image.