14 Day Norway Cruise
From Southampton, England To
Norway, Iceland & Scotland
Norwegian Jade
Day At Sea
Overview Of The Ship
Day 2 - Tuesday, September 4, 2018
<<<PREVIOUS PAGE &nbsp &nbsp NEXT PAGE>>>

Click on each photo below for a larger image.
Restaurants
Restaurant Status Display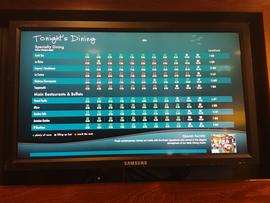 These restaurant status display can be found throughout the ship. They show the availability and relative wait times for each restaurant. The specialty restaurants where an extra fee is required seem to fill up fast. Even by 1 PM most of them were all booked up until late evening. Meanwhile, all the FREE specialty restaurants remained pretty open with plenty of space available.
Alizar Dining Venue
We are not big fans of the Alizar Restaurant. It has the same menu as the Grand Pacific Dining Room which is the main dining room of the ship, but it is much smaller and seems to be extremely noisey. The Grand Pacific Dining Room seems to be much bigger and has much better accoustics as well as a better ambiance and better view.
Garden Cafe (Buffet)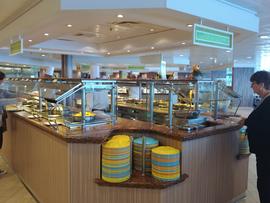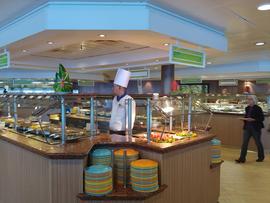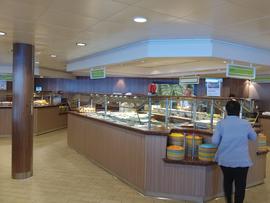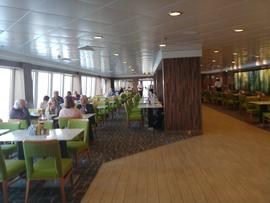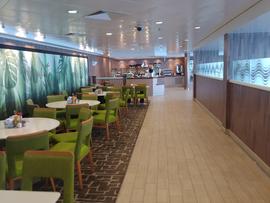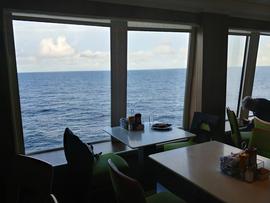 We liked the buffet on this Norwegian Jade cruise better than the ones on the Carnival cruises. The Norwegian Jade seemed to have a much wider selection of offerings. Each station had different items. No two stations had the same items. On Carnival many of the stations seemed to repeat the same selection as other stations.
Jasmine Asian Restaurant & Sushi Bar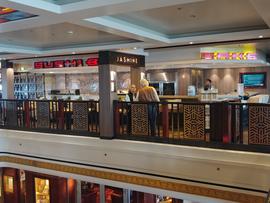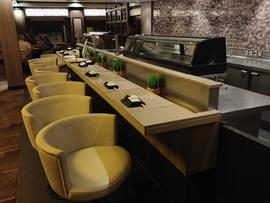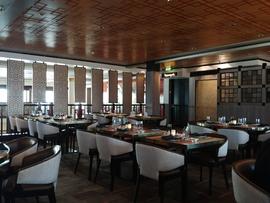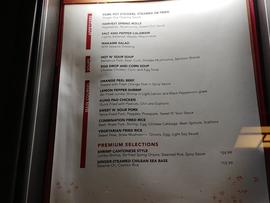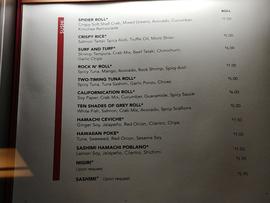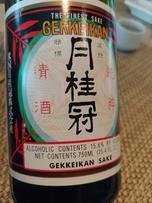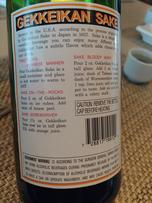 Le Bistro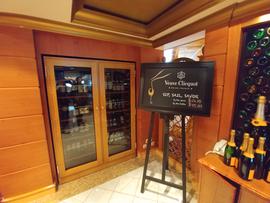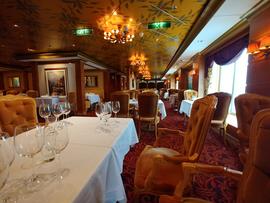 O'Sheehan's Bar & Grill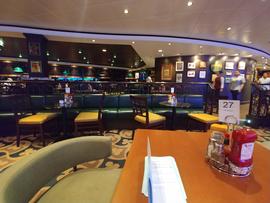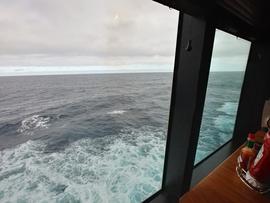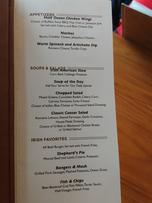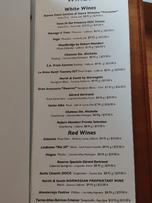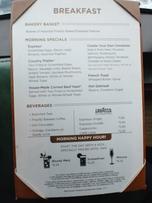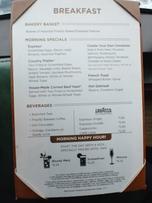 O'Sheehan's has more of a "pub menu" than what is served in the other main dining rooms. They serve breakfast, lunch, and dinner and comfort food around the clock. There is no extra charge for food in this venue. O'Sheehan's is also a bar & lounge.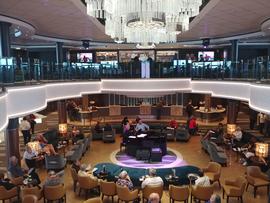 Upper Level Is O'Sheehan's.
Lower Level Is Atrium Lounge, Java Cafe, Guest Services, Etc.
Pit Stop Poolside Restaurant
Bars & Lounges
Atrium Lounge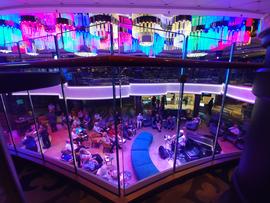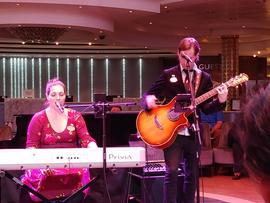 Bliss Lounge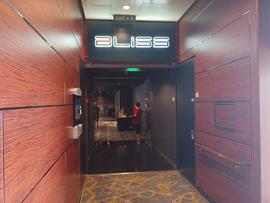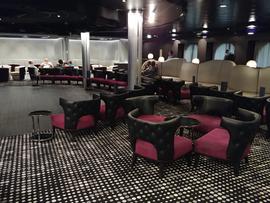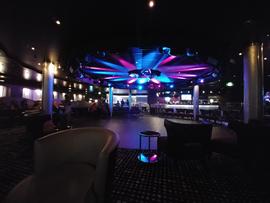 Cigar Room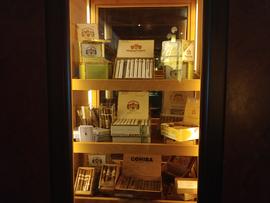 Great Outdoors Bar & Lounge
Spinnaker Lounge
Topsiders Poolside Bar
Don't be fooled by all the different next three "bars" listed below. All of them are all right next to each other in the same room and they all have the exact same menu. You can purchase any of the same drinks at any of the 3 bars which are all literally in the same room, plus the cigar bar. Together I think they refer to all 3 as "Bar City".
Magnums Champagne & Wine Bar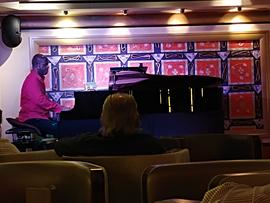 So far this has been one of our favorite places to spend time. They often feature either a jazz band with 3 horns (saxophone, trumpet and trumbone) plus guitar, piano and drums, or a piano / guitar duet that sings great ballads from the 1970's.
Mixers Martini & Cocktail Bar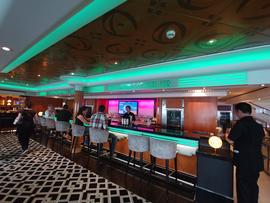 Tankards Beer & Whiskey Bar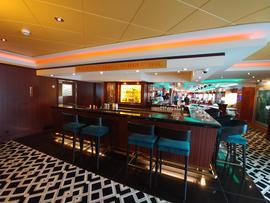 All three of the above bars are really just one bar in the same area all connected to each other and mostly sharing the same seating area. They all have the exact same Bar Menu and you can order any of the drinks on the Bar Menu at any of the three bars.
Bar Menus
Spirits & Wine Menu
All of the bars and lounges throughout the ship seem to have the exact same bar menu shown below. It has its own unique bar menu. Some of the restaurants also offer a much more extensive wine list. The wine available by both the glass and the bottle in the bars is rather limited to a few selections of inexpensive wine, even in Magnum's Champagne & Wine Bar. They mostly range in price from about $27 to $33 per bottle but are wines that you could buy yourself in retail stores for between about $7 and $13 per bottle.

Regional Wine Selections.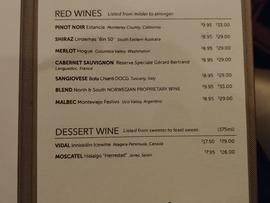 White, Red & Dessert Wines.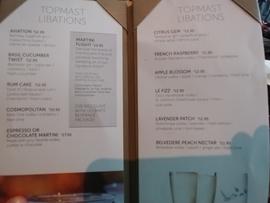 Topmast Libations & Martini Flight.



Topmast Super & Ultra Premium Spirits.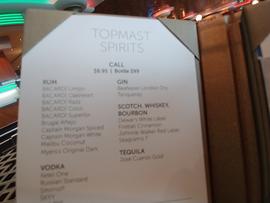 Topmast Call Spirits.



Premium Spirits.



Super & Ultra Premium Spirits.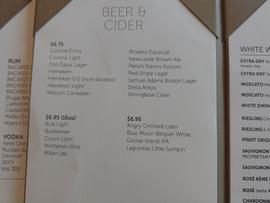 Beer & Cider.



Non-Alcoholic Refreshers.
Entertainment
Stardust Theater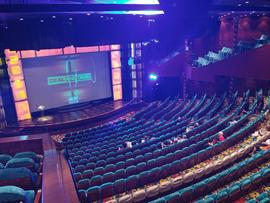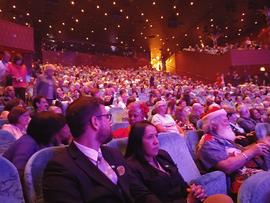 Jade Casino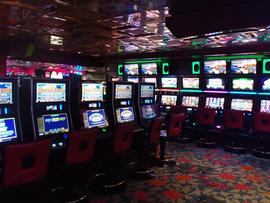 Shopping
Trade Winds Shopping Area
Unlike many other ships that have many shops, the Norwegian Jade seems to only have one shop, but it is a gigantic shop! It is very spacious and offers a wide variety of items. It is very much like a general department store.
Other
Partial Directories Near Every Elevator
Art Gallery & Internet Cafe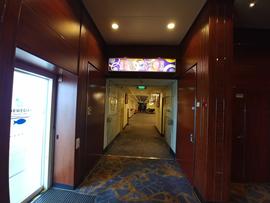 Chapel
Entourage For Teenagers

Includes A Video Arcade.
Game / Card Room
Library
Mandara Spa & Salon
Photo Gallery
The new trend in ships is to have a completely computerized photo gallery store. Unlike the old days where they practically forced you into having your photos taken at every opportunity, they are a bit more laid back about it. I think they realize that everyone now has a digital camera on them, even if just their smart phone, and there are more people now who won't purchase photos taken by the ship photographers. But there are still many opportunities to have your photo taken by professional ship photographers if that is what you want. Afterwards you just use the computers in the photo gallery shop to find your photos and purchase them. No more needing to hunt through hundreds of photos posted to a wall.
Pool & An Indoor/Outdoor Relaxing Area
Pulse Fitness Center
Splash Academy For Younger Children
Martini Tasting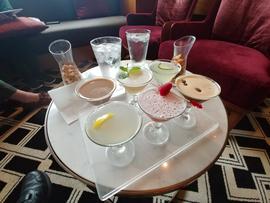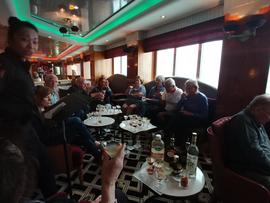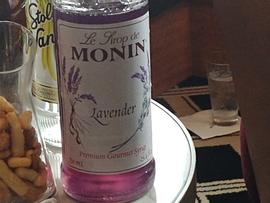 We really enjoyed the Martini Tasting Event for $19.95 per person. They served 6 different Martinis while they explained the history and method of making Martinis. The Martini Flight is on the Bar Menu so you can order it anytime, but only at this special event did they explain the history and methods of making Martinis.
The Water We Pre-Purchased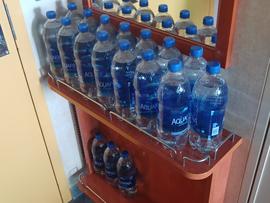 We Might Have Over Done It.
Dinner In The Alizar Restaurant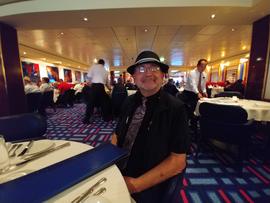 Steve Grande (me).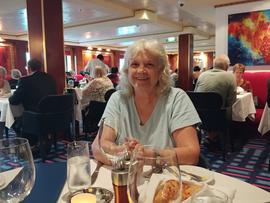 Barbara Cepinko (my wife) & Shelli Tucker (my sister).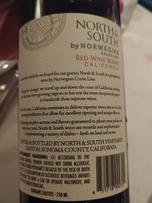 The Wine We Had At Dinner.


I kind of got fooled on this one. I saw "Norwegian Private Selection" on the wine menu and figured we should try some Norwegian Wine since we were heading to Norway. But it turned out the "Norwegian" label refers to the Norwegian Cruise Line, not the country of Norway. The wine has nothing to do with Norway and is actually produced from California grapes. But the wine was pretty good. Most of the wines offered in all of the bars were only between $27 and $33 per bottle. So far every one that we tried I'd say was at least "good" if not "very good". None would I say were "excellent". Doing a bit of research I found that all of these wines could be purchased retail in the store between $7 and $11 per bottle. Thus the cruise ship is marking up the wines double or triple from the retail price. Considering the ship probably buys them at the even chepaer wholesale prices, they are probably marking them up 4 or 5 times what they pay for them. That is quite a profit on each bottle of wine!
The Full Norwegian Jade Wine List
As you can see from the below list, the restaurants offer a much greater selection of wine than is availble in the bars and lounges. The wines available in the restaurant include those of much higher quality and prices than what can be purchased in the bars and lounges. I was surprised that the wines available in Magnums Champagne & Wine Bar is so limited compared to what you can purchase in the ship restaurants.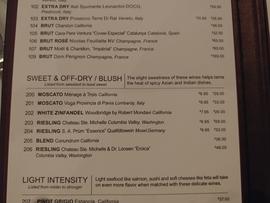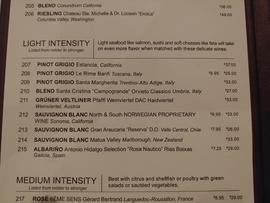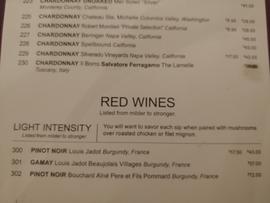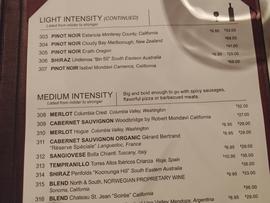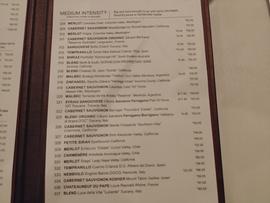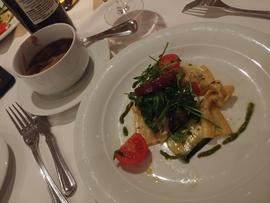 One Of The Dishes We Had.
The Towel Animal Of This Evening


<<<PREVIOUS PAGE &nbsp &nbsp NEXT PAGE>>>

Click on each photo above for a larger image.